Here you find an overview of my studio. I mainly use my Roland V-Drums, M-Audio Axiom 49 Midi Keyboard… The soundcard that I use is a M-Audio Fasttrack Pro together with my Rokit KRK RP6G2 SE monitor speakers and my Audio-technica M50 headphones.
I started with the Roland TD3-KV Kit. A nice kit with a kickdrum, hihatpedal 4 rubberpads (hihat, 3x toms) 2 crashes and a
PD-85BK snare meshpad. After a year I replaced my 4 PD-8 pads for 2x PD-100 & 2x PD-120. I also bought a CY-12H wich I use as a ride/crash.
 I hooked it up with "EZ Drummer" by Toontrack wich is a VST plugin with good sounds. A lot better than the Roland TD3 Module in my opinion. Later I switched to Toontrack "Superior 2" when it was released. Although it has a lot of options I still wasn't satisfied. I searched for a while and I found "Addictive Drums" by XLN Audio and this is it for me! I Still use it and it gives me a lot of good drumkits and great possibilities to mix my drums into Cubase or FL Studio.
Here you will find the specifications of my drumkit: Kick : Roland KD-8 | Snaredrum : PD-120 | Tom 1 : PD-100 | Tom 2 : PD-100 | Tom  3 : PD-120 | Hihat : PD-85BK | Hihat pedal : FD-8 | Ride : CY-12H | Crash 1 : CY-8 | Crash 2 : CY-8.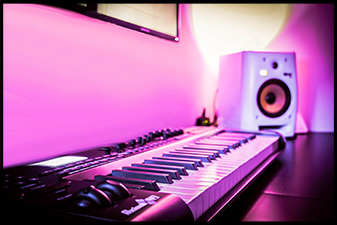 M-Audio Axiom 49:
I started with a M-audio Keystation 49e Midi Keyboard in 2007. After 2 years I decided to buy a keyboard with more options like knobs and faders. At December 2009 I bought my Akai MPK49 keyboard.
3 years later I've sold my Akai because I wanted something else. This time I bought the Axiom 49 by M-Audio. The M-Audio Axiom 49 has 8 Drumspads, 9 faders and 8 rotatoryknobs wich can be linked to my software program/plugin. I mainly use my keyboard to play some basslines and melodies. It helps me a lot creating my tunes easier and faster then in a sequencer.